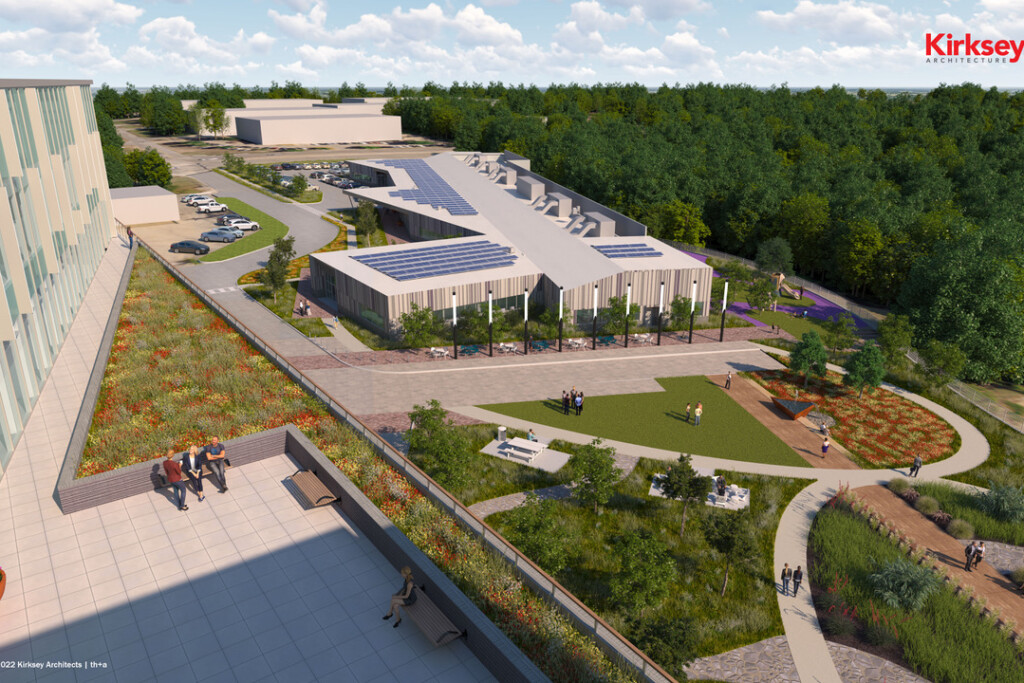 Most commercial real estate redevelopment projects are profit-oriented. But every once in a while, I get to work on a project that goes far beyond that; the project becomes transformational. For a number of years, I have been fortunate to work on such a project for Dallas Metrocare Services. The story of how this project will transform the land, clients, staff, and an entire community is a story worth telling.
Imagine an 11-acre parcel of land that sits at one of the highest points in Dallas County. There are dilapidated buildings on the property—some dating back to the late 1940s. Those buildings were serving Metrocare clients. For years, Metrocare grappled with whether to sell or redevelop the property—also called the Hillside Campus—but purchase offer amounts were insufficient to enable Metrocare to find a new location and rebuild in as special a setting as the Hillside Campus.
Eventually, as I worked closely with the Metrocare's senior management team, we began to look at the site again with a new perspective and the potential it presented for Metrocare to build a state-of-the-art campus called the Behavioral Health Innovation Center. The location is perfectly situated to become the epicenter of all Metrocare operations, greatly enhancing clinical care, training, education, and research efforts to benefit Dallas County and serve as a state and national model for providing behavioral health care.
The location is in a prime spot on Westmoreland just south of I-30 in Oak Cliff. The views are spectacular; from the highest point, you can see downtown Dallas AND downtown Fort Worth. The natural setting is a key component for patients' healing; the setting will be incorporated into the architecture and building so nature can nurture clients' minds, bodies, and souls.
When completed, Metrocare's Hillside Innovation Center will house two buildings to serve Dallas County. But it is more than the buildings; it's about what Metrocare will do once they occupy these buildings.
Metrocare is the largest provider of high-quality mental health care, substance abuse, and developmental disability services to our most vulnerable neighbors in Dallas County, regardless of their ability to pay. It is also one of the largest providers of housing services in the county. Through Metrocare's 11 mental health clinics in various locations throughout Dallas County, the organization offers a vast array of community-based services, including primary and preventative care, mental health and intellectual developmental disability services, accessible pharmacies, housing, veteran services, re-entry support, crisis intervention, early childhood intervention (ECI), autism services, day habilitation programs and more. In 2021, Metrocare served more than 55,000 children and adults. Its services are available to anyone in Dallas County.
Twenty-first-century clinical care, education, and research practices require Metrocare to upgrade to more modern, efficient, and effective facilities, especially as mental health needs have risen in the last few years. The centerpiece of Metrocare's vision is to create this Behavioral Health Innovation Center to keep pace with Metrocare's best-in-class service delivery model,
The Innovation Center will house Metrocare's Altshuler Center for Education and Research, where researchers and teachers partner with UT Southwestern and the University of Texas at Dallas to train the next generation of behavioral health professionals, clinicians, researchers, and leaders. As you can imagine, their training is top-notch and in great demand here and across the country.
According to Todd Howard, executive vice-president and director of the North Texas office for Kirksey | th+a, the architect for the project, "We designed the client services building, the larger of the two buildings to sit on top of one of the highest points in Dallas, taking advantage of the views. The entire campus is designed to be a sanctuary for both Metrocare's clients and staff. With sustainability being at the forefront of all of the firm's work, the buildings are designed with the environment in mind and are on track to achieve LEED Gold ratings."
The client services building will be situated along the northern edge of the property, with the northern façade facing Interstate 30. This building consists of three levels of parking with approximately 90,000 square feet of client service spaces.
Nearer to Westmoreland, with approximately 48,000 square feet, will be a clinic dedicated to providing clinical services to patients of all ages. Multiple programs will be offered throughout the clinic space. Separate entrances for adults and children will provide a secure environment focused on counseling and healing environments for specific age groups. The design of the building is driven functionally by best practices in clinic design. Treatment rooms will be located around a central core that serves as the physician and staff workspace, allowing easy access to all patient rooms. From a physical standpoint, the clinic design follows the topography of the site, allowing views to the forested basin at the southern side of the property.  
About the exterior setting, Howard added, "The siting of the two buildings offers a wonderful exterior area that serves as a healing environment for patients with walkways, water features, and areas to interact with nature. The healing garden is visible throughout the campus and offers solace to the patient experience. The design team engaged MAP (Make Art with Purpose), who in turn engaged the students of CityLab to work with the design team on art for the exterior skin of the building."
Whenever any business or organization develops more than 11 acres, the commercial real estate industry and the community surrounding it sit up and take notice. This project is an excellent example of redeveloping a site with dilapidated and outdated buildings into something new. The Hillside Innovation Center is a transformational development that will provide greater access to quality, superior care for many more people who might not previously have been served.
According to Tate Ringer, Metrocare's Chief Strategy Officer, "Mental health care is health care. The two are interlocking and cannot be set apart. If we want to have a healthy Dallas, we must have state-of-the-art mental health services. And that's what we're building."
I couldn't agree more, and I am honored to have played a role in helping to build a healthier Dallas County through a real estate redevelopment project that will transform a property but, much more importantly, transform lives.
Eliza Solender is president of Solender/Hall, Inc. and serves on the board of directors of Origin Bancorp and as the lead advisory director for Lost Oak Winery.
This article was originally posted in DMagazine Commercial Real Estate – Nonprofits | CRE Opinion